Title
Woran sterben die meisten Menschen? WHO: Demenzen und Diabetes in den Top 10
Description
Woran sterben die meisten Menschen? Laut WHO sind die häufigsten Todesursachen nicht Infektionskrankheiten, sondern Herzerkrankungen, Schlaganfälle und chronische Lungenerkrankungen. Neu ist, dass mittlerweile auch Demenzen zu den zehn häufigsten Todesursachen weltweit zählen. Dafür zählen HIV/Aids und Tuberkulose heute nicht mehr dazu. Könnte SARS-CoV-2 auch in die Top 10 folgen?
Site Icon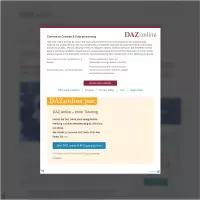 Visit with QR Code
Based on 0 Votes and 0 Reviews
No review has been added yet, be the first to add it.